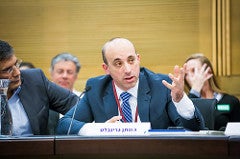 ADL SAYS KOTEL DECISION WILL WEAKEN TIES BETWEEN ISRAEL AND AMERICAN JEWRY
New York, NY, June 26, 2017
The Anti-Defamation League (ADL) today expressed deep disappointment over a decision by the Government of Israel to suspend the implementation of the Western Wall egalitarian prayer space plan. ADL called on Israel's political and religious leaders to heed the outcry that has confronted the decision, saying that suspending the plan has undermined essential trust and solidarity between American Jewry and Israel.
On June 25, Israeli Prime Minister Benjamin Netanyahu suspended a 2016 government-approved plan to establish a pluralistic prayer space at Jerusalem's Western Wall, following calls by his ultra-Orthodox coalition allies to scrap the deal.
            "The widespread outcry from across the religious and political spectrum is testament to how frustrating and deeply personal the plan's suspension is for millions of Jews across the Diaspora and Israel," said Jonathan A. Greenblatt, ADL CEO. "The decision is a blow to those of us who support religious pluralism in Israeli society. It will weaken ties between Israel and the American Jewish community, the majority of which are not Orthodox and will be negatively impacted by this action."
Mr. Greenblatt added, "The plan had been widely hailed as an important and constructive compromise by religious figures and government officials alike, including by Prime Minister Netanyahu, who had repeatedly expressed his commitment. We call on the Prime Minister to reassert his commitment to inclusion for all Jews and make a good-faith effort to rebuild trust and support. It is urgent for the government to communicate with clarity and detail how it will ensure that Israel will continue to embrace the full spectrum of the Jewish community."
ADL had welcomed the plan when it was first announced, referring to it as a "historic decision." Following continual delays, ADL subsequently urged the Israeli government to implement the plan, both in public statements and private meetings with senior Israeli government officials.