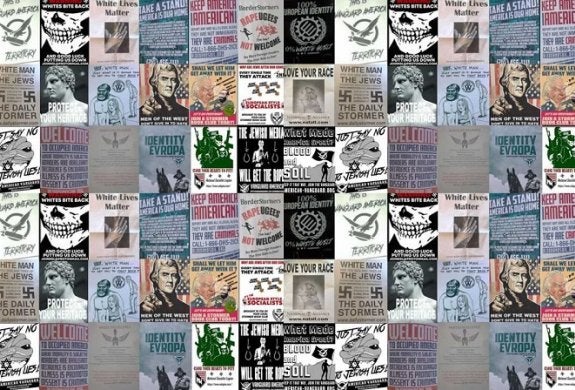 New York, NY, March 5, 2019 …
White supremacists dramatically stepped up their propaganda efforts targeting neighborhoods and campuses in 2018, far exceeding any previous annual distribution count for the United States and showing how these extremist groups are finding ways to share hateful messages while hiding the identity of individual members.
Newly released data from ADL (the Anti-Defamation League) shows white supremacists' propaganda efforts increased 182 percent, with 1,187 distributions across the U.S. in 2018 , up from 421 total incidents reported in 2017.
The number of racist rallies and demonstrations also rose last year, although on a more modest scale. At least 91 white supremacist rallies or other public events attended by white supremacists were held in 2018, up from 76 the previous year, with hate groups increasingly employing "flash mob" tactics to avoid advance publicity and scrutiny.
ADL's Center on Extremism has gathered the 2018 data on ADL's H.E.A.T. Map, an interactive online tool that allows users to geographically chart white supremacist incidents and events nationally and regionally.
"Posting fliers is a tried-and-true tactic for hate groups, one that enables them to spread hateful ideas and sow fear across an entire community," said Jonathan Greenblatt, ADL CEO and National Director. "Hate groups were emboldened in 2018, but their increasing reliance on hate leafleting indicates that most of their members understand this is a fringe activity and are unwilling to risk greater public exposure or arrest."
The propaganda included everything from veiled white supremacist language to explicitly racist images and words, often featured a recruitment element, and frequently targeted minority groups, including Jews, Blacks, Muslims, immigrants and the LGBTQ community. In some cases, the literature was packaged in a plastic bag with candy or rocks to weigh it down.
Some of key trends observed by ADL in 2018:
The number of non-campus community propaganda efforts skyrocketed to 868 in 2018, up from 129 incidents in 2017. Alt right groups were responsible for the majority of these efforts. Patriot Front led the way with 324 literature distributions, while 312 incidents were linked to Identity Evropa. Daily Stormer followers were responsible for 34.
ADL recorded 319 incidents of white supremacist propaganda appearing on 212 college and university campuses in 37 states and in Washington, D.C. This was up from 292 campus incidents in 2017. Identity Evropa and Patriot Front were responsible for the bulk of campus incidents.
Klan groups noticeably increased their propaganda efforts. In 2018, there were 97 incidents in which Klan fliers were left on doorsteps or driveways in neighborhoods, a 20 percent increase from the preceding four-year average of 77 annual incidents. At least 11 different Klan groups took part in leafleting efforts across the U.S.
The 2018 propaganda incidents were predominantly concentrated in large metropolitan areas, with the highest activity levels in California, Texas, Colorado, New York, Illinois, Florida and Virginia. But numerous smaller communities were targeted, too.
The alt right continued to use banners to promote their message as well. In 2018, ADL counted 32 instances where white supremacist banners were hung in high-visibility locations such as highway overpasses. The Texas-based Patriot Front, the country's second-largest alt right group, used banners the most in 2018, deploying them 21 times.
Flash demonstrations – unannounced, quickly disbanded gatherings – proved a viable alternative to pre-announced events for the two most active alt right groups. Identity Evropa and Patriot Front held more than 30 flash demonstrations last year. These groups were also responsible for the two largest white supremacist flash demonstrations in 2018, held in Nashville and Washington, D.C.