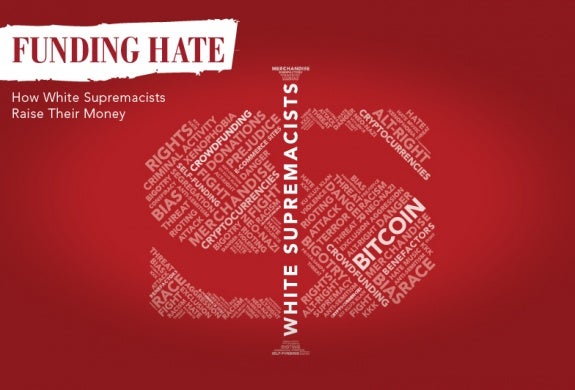 New York, NY, December 5, 2017 …
The Anti-Defamation League (ADL) is calling on credit card companies and online crowdfunding sites to more closely monitor white supremacists' compliance with their terms of services and policies in light of a new report highlighting how racists exploit online platforms to raise money for their racist "cause."
Funding Hate: How White Supremacists Raise their Money, a new report from ADL, investigates the variety of tools white supremacists use to raise funds, from selling merchandise to charging for in-person events and online crowdfunding. The report found white supremacists are almost always early adopters of new technologies to raise or transfer money, from crowdfunding to Bitcoin, even starting their own services when kicked off mainstream platforms.
"Crowdfunding is a new money stream for white supremacists that enables them to quickly raise money for specific projects and general support from their followers," said Oren Segal, Director of ADL's Center on Extremism, which produced the report as part of its ongoing research into extremist groups. "We need to remain vigilant as white supremacists exploit emerging technologies to fund their activities, and the funding platforms and payment processors have a crucial role to play in this ongoing battle."
Since the white supremacist rally in Charlottesville, Va., in August, which ended in violence and the death of an anti-racist protester, funding platforms have made it more difficult for white supremacists to use their services. As a result, white supremacists are taking their fundraising campaigns to fringe platforms such as GoyFundMe, Hatreon and WeSearchr, and also opting for electronic crypto-currencies such as Bitcoin and Ethereum.
In one of the most extreme cases, a 2017 WeSearchr campaign to raise money to help white supremacist Andrew Anglin defend himself and his Daily Stormer website from civil lawsuits raised more nearly $160,000 from more than 2,000 contributors. But most crowdfunding campaigns by racists have only raised a few hundred to several thousand dollars, according to ADL's report.
White supremacists have used crowdfunding to raise funds to purchase banners and launch racist campaigns. In 2014 and 2015, the American Freedom Party had a campaign on GoFundMe to "protect" white South Africans from "genocide," while the Aryan Renaissance Society used the same platform to raise money to commemorate the birthday of Adolf Hitler.
In October 2017, white supremacists set up a FundRazr campaign to collect money for Jacob Scott Goodwin, the white supremacist charged with assault during the Unite the Right rally in Charlottesville. Within a few days it had raised more than $1,000 from 31 contributors.
For some white supremacists, Bitcoin has become a necessary alternative to credit cards or electronic funds transfer sites like PayPal. The white supremacist site Stormfront claims that Bitcoin is the site's preferred payment method and provides its Bitcoin address for digital currency transactions.
"Compared to other political or social movements, the white supremacist movement is poorly financed," explained Mark Pitcavage, Senior Research Fellow at ADL's Center on Extremism, and author of the report. "Moreover, because their views are odious, they frequently lose access to means of raising or transferring money that other movements take for granted.  This causes them to rush to exploit new methods that emerge, such as crowdfunding, and to try to create their own crowdfunding schemes when kicked off of mainstream platforms."
In light of the report, ADL issued recommendations for credit card companies and electronic money transfer platforms, including:
Establish reporting systems through which people can relay complaints about white supremacists attempting to use their services;
Review terms of services governing offensive or harassing campaigns; and
Expand monitoring to ensure effective enforcement of those internal policies.
ADL's Center on Extremism fights extremism, terrorism and all forms of hate with unmatched capabilities in research, analysis, investigation, and online monitoring. Recognized as the foremost authority on extremism, the Center provides resources, expertise, and training, which enables law enforcement, public officials, community leaders, and technology companies to identify and counter emerging threats.