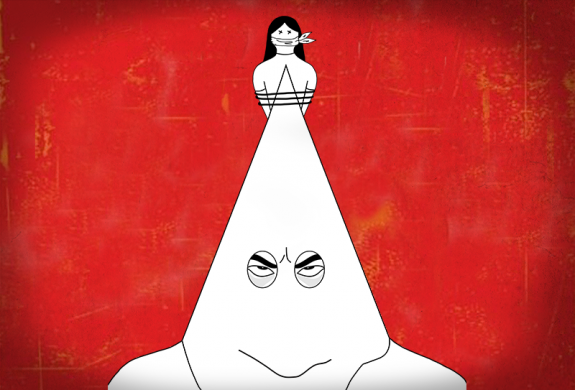 New York, NY, July 24, 2018 …
For the first time, the Anti-Defamation League (ADL) is investigating misogyny as a dangerous and underestimated component of extremism. In a new report released today "When Women are the Enemy: The Intersection Between Misogyny and White Supremacy," ADL finds a powerful connection between the "men's rights" arena and white supremacist ideologies. The report marks a new prioritization of misogyny as a part of the organization's extremism research and reporting.
"Misogyny has the potential to act as a gateway into the white supremacist world," said report author Jessica Reaves, an expert at ADL's Center on Extremism. "The hatred and resentment of women voiced by groups like involuntary celibates and Men's Rights Activists is disturbingly similar to white supremacists' hatred of minorities.  And some white supremacists, especially those on the alt right, use the same degrading, violent anti-woman rhetoric we hear coming from misogynist groups."
The report found that the narrative of white men as victims of feminism, changing social norms, and progressive thought and politics is one of the most powerful inspirations for misogyny across the white supremacist spectrum and the various misogynist movements.
ADL found it is commonplace to find MRA and incel language on alt right message boards, where commenters perpetuate rape culture and encourage violence against women who (they believe) are denying them their "rightful" sexual experiences.  These groups feed off of and inform each other's hatred of women.
 "When we see the vile hatred that comes out of the white supremacist movement, we immediately and rightly call out this hatred as a dangerous threat. The hateful and sometimes violent rhetoric of misogynist groups should be treated no differently," said Jonathan Greenblatt, ADL CEO and National Director. "Increasingly, the tropes and themes used by misogynists to describe women and their place in the world are no different than those used by many white supremacists."
In conjunction with the report, ADL issued the following policy recommendations to the law enforcement, anti-bias, and tech communities to combat violent misogyny:
Law Enforcement
Build understanding among law enforcement leaders and organizations about the nature of misogynistic hate;
Encourage legal and policy mechanisms to ensure gender equality, including specific laws protecting against gender-based violence.
Anti-Bias Training
Include gender-based content in anti-bias education and public debate about civil rights;
Bolster community resilience to hate, and fund education and prevention programming.
Technology and Social Media
Create an ongoing dialogue between civil society and the technology sector;
Ensure tech platforms have inclusive, comprehensive Terms of Service—and that they are broadly, appropriately enforced;
Provide effective options to decrease women's encounters with online gender-related hate speech;
Create specifically-tailored solutions to combat misogyny, depending on the nature of the platform and the harassment;
Consider alternatives to account removal of victims of harassment who repost harassment for awareness.