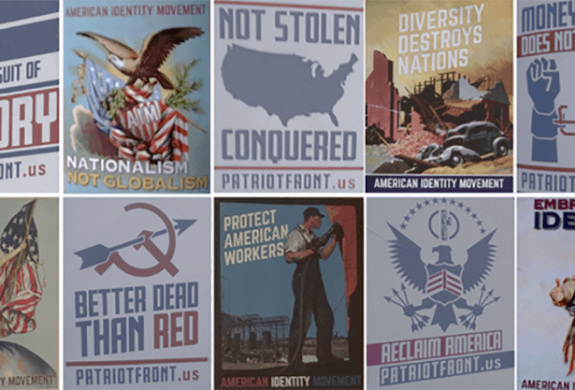 New York, NY, June 27, 2019 …
White supremacist propaganda distribution on college campuses increased for the third straight year, according to data released today by ADL(Anti-Defamation League). From Sept. 1, 2018 to May 31, 2019, ADL's Center on Extremism documented 313 cases of white supremacist propaganda on college campuses – including fliers, stickers and posters – compared to 292 during the 2017-2018 academic year, representing a 7 percent increase. This year's increase comes on top of a 77 percent increase during the previous (2017-2018) academic year.
The 2019 spring semester saw more extremist propaganda on campus than any preceding semester, with 161 incidents on 122 different campuses across 33 states and the District of Columbia. For the complete academic year, California had the most incidents with 58, followed by Kentucky with 22 and Oklahoma with 19.
"This data clearly demonstrates that white supremacists in the United States are emboldened by the current political and social climate," ADL CEO and National Director Jonathan Greenblatt said. "Our campuses and communities should be places for learning and development, not places for racists and bigots to propagate hate speech and search for potential recruits."
The propaganda messages range from veiled white supremacist language to explicitly racist images and words that attack minority groups, including Jews, blacks, Muslims, non-white immigrants and the LGBTQ community. Other fliers seek to deceptively promote "American Identity" without any explicitly racist message, but rather link to a website where such content is available.
Nearly all of the incidents originated from the alt-right segment of the white supremacist movement. The group responsible for the most fliering was the American Identity Movement (AIM), formerly known as Identity Evropa, with 115 incidents. Patriot Front, a white supremacist group that was founded in 2017 after a split from Vanguard America, followed with 30 incidents.
"University presidents and campus leadership must remain vigilant in speaking out against the hateful messages of these groups," Greenblatt said. "Given the alarming increase of these incidents, words alone are not enough – it must be followed by action. Educating faculty and students on the values of diversity and inclusion, along with improving training for campus officials charged with responding to bias incidents and hate crimes, are just a few of the ways campuses can fight back against this scourge of hate targeting our youth."
In 2018, ADL launched "Hate Uncycled" – a resource to help campus administrators address incidents from many lenses, including prevention, preparation, response, healing and education. The goal is to dismantle the complexities of bias and hate through regular assessments and implementing campus climate initiatives and incident response practices.
In addition to on-campus activity, ADL has also documented a dramatic increase in white supremacist off-campus propaganda incidents. In the first five months of 2019, ADL counted 672 off-campus incidents, compared to 868 for all of 2018. Patriot Front was responsible for 440, or two-thirds, of the incidents, followed by AIM with 158.