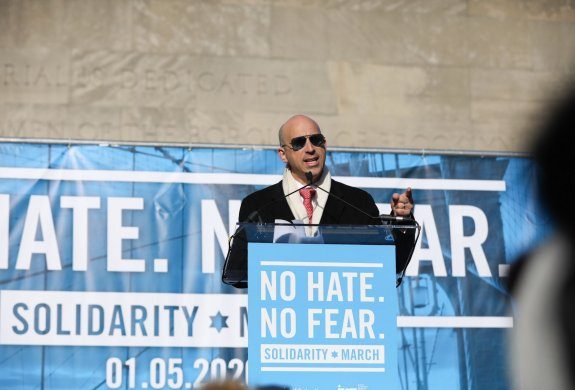 Jonathan A. Greenblatt Remarks (as delivered)
To the Solidary March Against Anti-Semitism
New York, NY | January 5, 2020
My name is Jonathan Greenblatt and I am the CEO of the Anti-Defamation League.
I am so moved to look out at this crowd and see so many people: elected officials and children… rabbis and ministers… Jews and non-Jews… all here to make it very clear that New York will not tolerate anti-Semitism… that New York is no place for hate!
At the ADL, we've been fighting anti-Semitism for more than 100 years. We've been tracking anti-Semitic incidents for more than 40 years. And we've been tracking the surge of anti-Semitic violence here in New York City and across the country in recent years.
What we've found is terrifying.
Anti-Semitic incidents in the U.S. doubled from 2015 to 2018. In 2018, there was a 55 percent increase over the prior year in assaults in New York, and all of these anti-Semitic incidents were concentrated in New York City. We are finalizing the number, but I expect 2019 will be the largest year in recent memory.
But I don't have to tell you that because for too many of us, we have seen this increase in anti-Semitic incidents with our own eyes: in our schools; on our college campuses; on the streets of Brooklyn or Monsey or Jersey City.
Our ADL has been there, on the front lines, supporting the victimized communities at every step of the way, tracking the hate and trying to find ways to fight it.
This is because, make no mistake, I might not wear a long coat. I might not have a black hat. But those are my Jewish brothers and sisters. These are attacks on my family. Because we are all part of one Jewish family. Whether Satmar or Chasidic, Orthodox or Reform, observant or unaffiliated, Jews of color and Jews by choice, we are all part of the same Jewish family and an attack on one Jew is an attack on all Jews.
That's why we call out antisemitism whenever and wherever it happens: the center of Times Square or the pages of The New York Times; on a college campus or a school board meeting; on Facebook or Twitter; on the streets of Brooklyn or London; Jersey City or Monsey; Pittsburgh or Poway.
So why is anti-Semitism on the rise?
First, its been normalized. When elected officials claim that Jews use their money to control Congress or blame the country's problems on globalists or accuse Jews of invading their towns, this is the normalization of anti-Semitism. We need a zero tolerance policy on intolerance.
Second, its social media. Look at Facebook, Twitter, YouTube or any of these services. We all use them. But with a click or a swipe, you can find horrifying antisemitism that would make the Nazis proud, all because those companies business models depends on those clicks and swipes. But it needs to end. Silicon Valley to step up and expel the anti-Semites. We need to stop hate for profit.
Third, it's a lack of honesty. Anti-Semitism comes from all sources but for too long people have been unwilling to admit it. But we have to acknowledge antisemitism, even when it happens on our side.
For example, as someone who worked in the Obama White House, I can tell you that, yes, we have a problem with antisemitism from some elements on the Left, the casual demonization of the Jewish state leads to the demonization of all Jewish people. And yes, whether intentional or not, those who deny the reality that anti-Zionism is anti-Semitism are contributing to the problem.
Yes, we also have a problem with antisemitism from some elements of the right, the wild conspiracy theories and white supremacists who promote them. But some on the right refuse to deal with that. And we just need to look at Pittsburgh or Poway to know how dangerous this can be.
And finally, yes, we have a problem with anti-Semitism coming from some minority communities. Now we cant ignore the evil of systemic racism and the social economic challenges facing communities of color, but there is no excuse for the bigotry of low expectations and no world in which it should be socially acceptable to attack people because of how they dress or where they daven. And so, while there only are a small number of people from those communities committing those crimes, we need a large number of people from those communities to say – ENOUGH.
That's why I'm so proud to introduce my friend and a true partner in the fight against hate and violence across New York City, Pastor Gil Monrose.
Pastor Gil Monrose has worked in close collaboration with our New York New Jersey office and our regional director, Evan Bernstein. Together they have been fostering dialogue between our communities and fighting gun violence. What binds them is a tight bond of friendship. Gil was instrumental in the expansion of ADL's No Place for Hate curriculum with Brooklyn Borough President Eric Adams. Thanks to Borough President Adams, this fall we were able to announce a doubling of the funding that will enable ADL to reach 10,000 more students in Brooklyn.
Pastor Monrose is the founding president of the 67th Precinct Clergy, aka the GodSquad, the Pastor of the Mt. Zion Church of God 7th Day in Brooklyn; and the director of Faith Initiatives for Borough President Adams.
He is a friend to our Jewish community. He is a leader in Brooklyn and beyond. He is a great New Yorker.
Ladies and gentlemen, please join me in welcoming Pastor Gil Monrose.