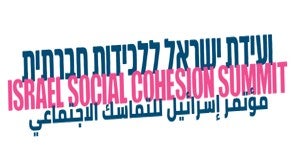 For the third time, ADL Israel is hosting the "Israel Social Cohesion Summit" on Nov. 5th at Avenue Hall, 1 HaSharon St., Airport City.
In 2017, ADL Israel launched its first Israel Social Cohesion Summit, a national platform to foster discussion of all aspects of social cohesion in Israel. The Summit breaks through the barriers of inter-organizational dialogue and aims to expose, inform and harness the discourse to engage individuals, communities and the state.
The 2017 Israel Social Cohesion Summit helt in Tel Aviv and the 2018 summit was held in Jerusalem. Setting an example of social cohesion, all summit materials were equally available and visible in three languages: Hebrew, Arabic and English. The extensive media coverage the summit received included local and national media on diverse platforms such as news sites, newspapers, television, radio and social media.
To view the video summing up the 2018 Israel Social Cohesion Summit, click here
Sign up to ensure your participation!
For more information and registration press here.