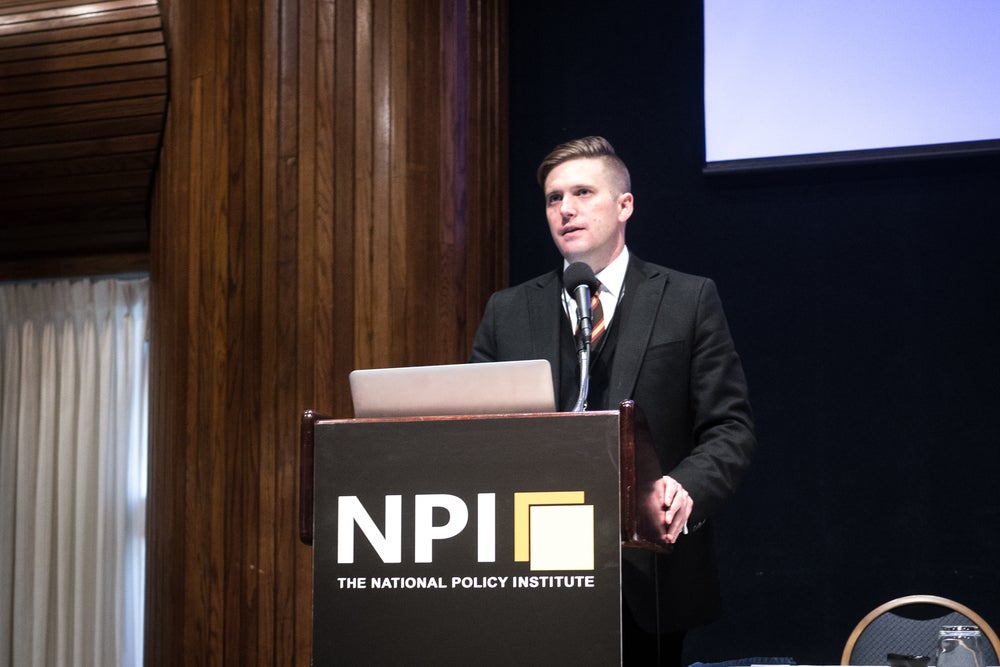 ADL WELCOMES DONALD TRUMP'S CONDEMNATION OF WHITE SUPREMACIST GROUP
New York, NY, November 23, 2016 … The Anti-Defamation League (ADL) today welcomed President-elect Donald Trump's disavowal of the convention sponsored by the racist and anti-Semitic National Policy Institute (NPI), where racist slogans were cheered and where participants were videotaped making Hitler salutes reminiscent of Nazi Germany while yelling, "Hail Trump."
In remarks at a meeting yesterday with journalists and editors at The New York Times, Mr. Trump, asked about the NPI conference, stated: "Of course, I condemn. I disavow and condemn."
"We welcome President-elect Trump's denunciation of the National Policy Institute convention held just blocks from the White House," said Jonathan A. Greenblatt, ADL CEO. "Racist and anti-Semitic groups have absolutely no place in our politics or society."
Mr. Greenblatt added, "Trump's disavowal of this group is a welcome first step, but more should be done to reassure those who are fearful of the upsurge in anti-Semitism and bigotry over the past months. ADL is prepared to engage constructively with the new Administration in the work of fighting hate and bringing the country together, and at the same time will continue to hold them relentlessly accountable toward these goals."
The National Policy Institute (NPI), a small white supremacist organization, held its annual conference Washington, D.C. on November 19 at the Reagan Building. The group is led by a 38-year-old white supremacist, Richard Spencer. Spencer runs NPI out of his home in Whitefish, Montana, but usually holds NPI events in the D.C. area.
Richard Spencer is a symbol of a new generation of white supremacists that envision a "new" right that will openly embrace "white racial consciousness" and espouse the same racism, anti-Semitism, xenophobia and intolerance that is central to the ideology. He is one of the key ideologues of the alt right, a loose network of individuals and groups who promote white identity and reject mainstream conservatism in favor of a politics that embraces bigotry and hate.
Over the last year, Spencer has become more openly anti-Semitic. In 2015 and again this year, Spencer invited anti-Semite Kevin MacDonald, a former professor, to speak at the annual NPI conference. Other conference speakers included Peter Brimelow, an anti-immigration extremist who runs the racist VDare website, and Jared Taylor, founder of The New Century Foundation, a white supremacist organization that publishes an online white supremacist journal American Renaissance.