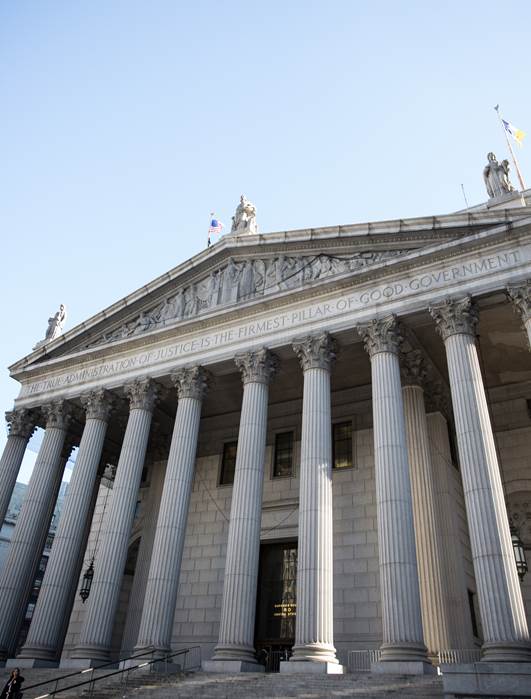 New York, NY, September 18, 2017 …
The Anti-Defamation League (ADL), joined by four other Jewish groups, has filed an amicus brief  with the U.S. Supreme Court urging the Court to uphold lower court rulings that have blocked the President's executive order on refugees.
ADL's brief concludes that enforcing the Executive Order "risks once again sacrificing the nation's core values in favor of prejudice and fear – a sacrifice that history has repeatedly proven has profound consequences both to the persons who suffer as a result and to the still-vibrant vision of the shining city on the hill." The brief points to three historical examples when the U.S. turned its back on immigrants and refugees and later apologized, including the tragedy of the USS St. Louis, in which Jews fleeing Nazi Germany were denied entry into the U.S. and sent back to Europe, where many perished in the Holocaust; the "Chinese Exclusion" that barred thousands of Chinese laborers from coming to American in the 1800s; and the internment of the Japanese during World War II.
            "Sadly, this is not the first time in America's history that the country has closed its doors to people desperately seeking safety," said Jonathan A. Greenblatt, ADL CEO. "Each time the United States has let fear and prejudice predominate, and has shut its doors to refugees or people hailing from particular parts of the world, the country has later apologized. The Supreme Court has the opportunity – and the responsibility – to block this discriminatory and ill-advised executive order so that twenty years from now we do not have to look back in shame."
John Harris, ADL's Legal Affairs Chair and primary author of the brief, added that blocking refugee entry and banning travel for people from six majority-Muslim countries runs contrary to America's founding principles.
            "The brief recognizes that the United States, at its best, has been a shining city on a hill, standing as a beacon of hope for those fleeing persecution and extreme violence," Mr. Harris said. "Rejecting the President's executive order is not only fully consistent with America's values and aspirations, but is also true to the foundations of our Constitution."
The Jewish Council for Public Affairs, the Union of Reform Judaism, the Central Conference of American Rabbis, and Women of Reform Judaism all joined the brief. The law firm Frankfurt Kurnit Klein & Selz, PC prepared the brief on behalf of ADL.