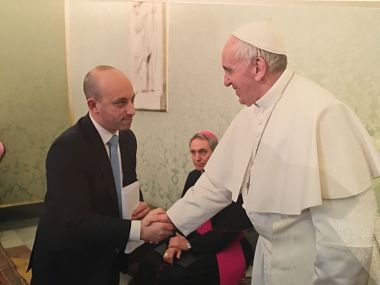 Vatican City, February 9, 2017.
A delegation of top leaders from the Anti-Defamation League met on Thursday with Pope Francis at the Vatican, where they voiced support for the pontiff's ongoing efforts to denounce anti-Semitism and praised his advocacy behalf of refugees, as well as his efforts to encourage greater understanding among Christians, Muslims and Jews.
"We know you understand and share our concern about the resurgence of anti-Semitism, especially in Europe," said Jonathan A. Greenblatt, ADL CEO, in an address to the pope in a private audience at the Vatican. "And we share your concern about the horrendous persecution of ethnic and cultural minorities, many of them Christians. Indeed, we are troubled that the world seems not to pay enough attention to this tragic situation."
The ADL delegation to Rome, consisting of 35 lay leaders from across the United States, was led by Mr. Greenblatt and Marvin D. Nathan, ADL National Chair. The meeting continues a long and historic relationship between ADL and the Catholic Church that stretches back decades and includes interfaith dialogue and educational efforts against anti-Semitism held in cooperation with the United States Conference of Catholic Bishops. ADL leaders in the past have held numerous audiences with Pope Benedict XVI and Pope John Paul II.
"Sadly, anti-Semitism, which I again denounce in all its forms as completely contrary to Christian principles and every vision worthy of the human person, is still widespread today," said Pope Francis, in his remarks to the ADL leaders. "I reaffirm that 'the Catholic Church feels particularly obliged to do all that is possible with our Jewish friends to repel anti-Semitic tendencies.'" Pope Francis also commended ADL for "combining efforts to counter defamation with education, promotion of respect for all, and protection of the weakest," and expressed gratitude for the League maintaining dialogue and close relations with the Catholic Church.
In ADL's first private audience with Pope Francis, Mr. Greenblatt thanked the pontiff for his steadfast support of the Jewish State of Israel and for the Holy See's commitment to carrying out the ideals of Nostra Aetate, the seminal Vatican II Council document that declared anti-Semitism a sin and reversed 2,000-years of church teachings about Jews. He presented the pope with a gift of a traditional Jewish tzedakah, or charity, box and a photographic portrait of the pope with his good friend and associate, Rabbi Avraham Skorka of Buenos Aires, Argentina.
Mr. Greenblatt decried the rise of violent religious extremism that has plagued many parts of the world and praised the Catholic Church for taking a strong stand against extremism and terrorism, while encouraging Israelis and Palestinians to come together in search of peace.
"We are deeply troubled by the rise of violent extremism and of reactionary nationalism, including in the United States," Mr. Greenblatt said. "The love of neighbor, enshrined the book of Leviticus and considered the greatest commandment by both Jesus in the Gospels and Rabbi Akiva, seems to be in short supply."
ADL's leadership mission to Rome and the Vatican (hashtag #ADLRomeMission) has also included meetings with Italian elected officials, leaders of the Jewish community in Rome, various high-ranking Vatican officials, and Israeli and American ambassadors to the Holy See.